by Matt Lamb
University of Wisconsin-Madison journalism Professor Mike Wagner appeared to encourage Republican Senator Rand Paul's neighbor to assault him in response to the libertarian politician's comments on COVID mandates.
Rene Boucher, the senator's Kentucky neighbor, attacked Paul in 2017, allegedly over a dispute about a pile of sticks. Boucher had to pay damages to Paul and served home confinement and time in jail, according to NBC News.
"Where have you gone, Rand Paul's neighbor, a nation turns its lonely eyes to you," Professor Wagner wrote on Twitter this morning. The phrase is presumably in reference to the Simon and Garfunkel song "Mrs. Robinson," where the band longs for the return of Yankees player Joe DiMaggio.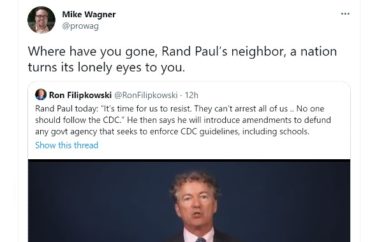 He subsequently deleted the tweet (right) and wrote a follow-up tweet.
"I deleted a tweet that could be read as encouraging violence," Wagner wrote. "I didn't mean it that way, but I should know better than to say anything that could be misconstrued in a violent direction. I apologize for that."
The professor quote-tweeted a video of Paul saying "It's time for us to resist. They can't arrest all of us .. No one should follow the CDC."
Wagner did not respond to an emailed request for comment from The College Fix on Monday morning prior to his apology. The Fix asked him if he wanted to see Senator Paul attacked again and what he meant by his comments.
"I am out of the country until 8/23," an automatic email said.
In addition to his role as a professor, Wagner is also affiliated with the public university's Elections Research Center and the Center for Communication and Democracy, according to his personal website.
He has also received a $1 million grant from the James Knight Foundation to start the "Center for Communication and Civic Renewal."
The funding will help them "study polarization and civic renewal," according to a 2019 news release.
"We want to understand what we can do to help ease that polarization and encourage more productive political processes in the legislature and between citizens across lines of political difference," Wagner said in 2019. "The fracturing in Wisconsin is a problem because democracy requires cooperation and compromise across lines of political difference."
The university said that Wagner voiced his thoughts only and did not represent UW Madison.
"Students, faculty and staff are able to exercise their First Amendment right to free expression on social media; when they do, they are expressing their own views, not those of the university," Meredith McGlone, the school's news and media relations director, wrote in an email to The Fix.
College Republican leader says the university needs to do more
"I believe it is unacceptable and inexcusable for a professor at a university to make such politically biased comments," Lily Schwenk, the vice-chairwoman of the state College Republican organization told The College Fix in a phone interview. "It shouldn't be tolerated by the UW system or the university itself. It brings in this bias, hate and division that we don't need anymore of."
Schwenk is a rising junior and political science major at the Madison campus. She said the system "prides itself on giving students a fair and balanced education" and said there is "a problem" if Wagner's comments represent what the means.
She wants system officials to "condemn him for this action" and "provide a plan to ensure students that moving forward [their] voices will be heard.
"Professors like Professor Wagner make it difficult to feel like we have that voice…because we see what they're saying about other political leaders," Schwenk told The Fix.
She'd like to see an apology directly to conservative students and more action from UW officials.
"I think a meeting needs to happen between the chancellor and the UW system president to create a plan to ensure students are treated fairly in the classroom…all students deserve an impartial education."
– – –
Matt Lamb is a writer for The College Fix.
Photo "UW-Madison" by UW-Madison.
Photo "Rand Paul" by Rand Paul.
---
---